| | |
| --- | --- |
| | Adding Products to website2Go Pages |


1-877-WEB-2002

Toll-free Help Line


This User Guide was built with website2Go.

Support

E-mail

© Copyright 2000
website2Go
All Rights Reserved



Adding Products to website2Go Pages


In the website2Go (Editor (yellow bar across the top of the page), you can add products in the Content and Sidebar columns of any page, using the Add Product button. Clicking this button takes you to a three-step screen:

Step 1: Select a product from the popup menu.





Step 2: Choose whether you wish to add the product's thumbnail image with short description and Add to Cart button, or just the Add to Cart button alone (for instance, if your page already has an adequate description of the product, and all you need is to connect it to the shopping cart).





Here's an example of a thumbnail with short description and Add to Cart button:





Step 3: the Save Shop Product button, to complete the addition, then Publish the page to update the live site.



Adding Category Links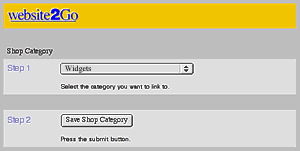 You may also add links to category pages to the Navigation Bar, Content, and Sidebar columns of your website pages, by using the Add Category button and selecting the category from the popup menu. These will appear on the published page as links, using the category names as the clickable text.

The top-level category page will look like a site map, and function as a catalog of the online store's products. By default, the Shop Manager does not place a link to your store in the published site's Navigation Bar - you may want to add at least the top-level category to the Navigation Bar to offer easy access from every page of your site. If you choose not to do this, remember to add your products and/or categories elsewhere on your Site Manager pages.