| | |
| --- | --- |
| | The Shop Manager Menu |


1-877-WEB-2002

Toll-free Help Line


This User Guide was built with website2Go.

Support

E-mail

© Copyright 2000
website2Go
All Rights Reserved




The Shop Manager menu provides access to your products, categories, and preference settings.

Edit Categories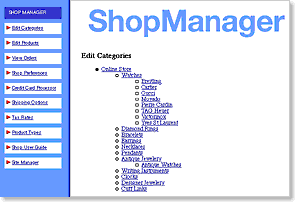 A map of your shop, the same page you see upon entering the Shop Manager.


Edit Products



A list of all of your products, which may be edited or deleted from this screen. The number of products shown per screen may be changed in the Shop Preferences screen. There's also a shortcut link to add a new product.


View Orders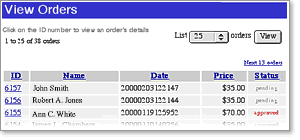 A list of all orders placed. See Getting Your Orders for details.


Shop Preferences
From this screen, you may change a number of shop settings. See Setting Shop Preferences for the details.

In this section, you configure your store so buyers' payments will be deposited into your merchant account. Website2Go Commerce uses CyberCash. See Credit Card Processing for instructions.


Shipping Options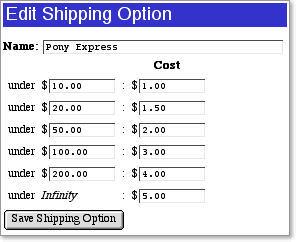 You may define price structures for one or more carriers who deliver your merchandise to your customers. Currently, for each shipper you may set the shipping cost as a function of the total cost of an order, at price points of your choosing. The shipping charge will be added to the customer's bill automatically.


Tax Rates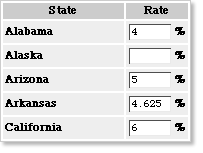 Enter the sales tax rate that applies in each state for which you must collect sales tax. If no tax is to be added, leave that state's Rate field blank. The shopping cart will calculate sales tax automatically, based upon these rates and the customer's billing address.


Product Types
The Product Type determines what product attributes will be available for entry in the Add Product screen. Currently, only the "generic" type is available.


Shop User Guide
A link to this document.


Site Manager
A link back to yourt Site Manager screen.